I know. You have to go way out of Seattle to check out this Preston work-in-progress, but there's so much potential for this 4,000+ sf home which blends industrial features with modern+eco-friendly design, and flavors it with a bit of Renaissance style.
Sprinkle a little royal wedding fairy dust on it (I'll be mainlining the stuff all week), and I can almost make the case that a certain soon-to-be-wed British Royal couple should consider making this home their Pacific Northwest hide-away (not that they've every been to Seattle or have any plans to make it their home, mind you).
It starts with a more out of the way location – secluded, if you will – in the Mitchell Hill neighborhood of Preston, WA.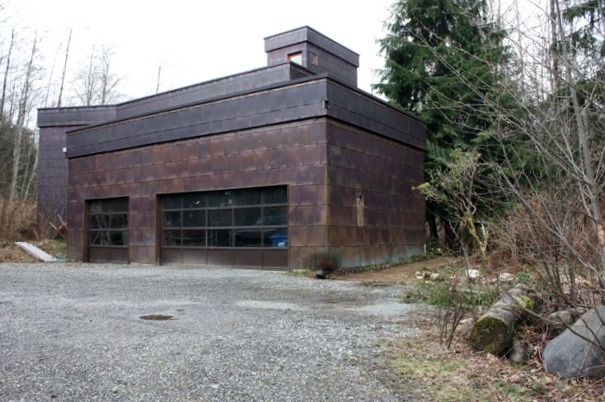 Add a couple of life-size gargoyles to overlook the copper flat siding that surrounds this structure and you've got instant Renaissance-industrial castle.

The modern layout includes an open kitchen that leads into an even more open living room under a raised ceiling that is held up by what appears to be unfinished timber.

Plus, what better way to make an entrance, than down this industrial staircase into the open living area lit by an impressive candelabra chandelier?

Or, take the stairs up to the 4-tier green roof on the third level – one of several eco-friendly features designed by Seattle architect, Paul Thiennes.
The perfect abode for a young, modern (possibly royal) couple to finish and make their own? Could be…
This Preston 3-bedroom, 2.75 bath home is located at 31135 SE 60th St and is currently listed for $450K.