Three Houseboats Under $500k
Today a reader clued me into three bank owned houseboats, either new construction or recently remodeled, under $500k, that just came on the market.
The first two are neighbors on Portage Bay.
2818 Boyer Ave E #7 is $485,000 and caught my eye because it has a garage door in the living room:
2818 Boyer Ave E #1 is $398,000:
The third is on Eastlake and is no stranger to the MLS having first been listed a year ago. 2235 Fairview Ave E #1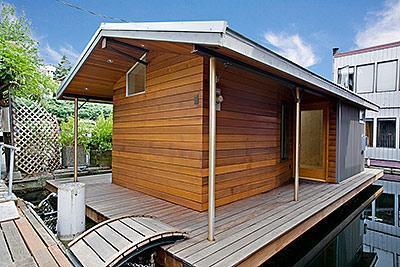 Our tipster reader also had some choice things to say:
For $350K you can get a new construction floating home the size of a typical room, with the washer & dryer outside the living area in an exterior closet, one wall mid-construction and now just a giant piece of plywood, a view to the parking lot, no assigned parking, lots of mosquitoes and flying things and very little air circulation due to it's location on the dock. And no full fridge, just drawers. Omg. I like smallish (but bright) living spaces, floating homes, and Eastlake, and I wouldn't go near this for more than $275.
Hard to disagree, but it has a sub-zero fridge and Wolf range!