Interesting Lofts: Lofts & Townhomes Edition
Pike Lofts
First up is unit #512 at 303 Pike St which is a nicely upgraded unit at the Pike Lofts.
Priced at $349k for a 1 bed 796 square foot unit. If you like Pike Lofts and want a large outdoor patio check out unit #309 that just came on the market at $328k which has had some bath and kitchen improvements too.
Townhouses on 14th
I like the look of these Pb Elemental designed townhouses at 14th and Spring. Great location and views, just a little pricey for my taste (not that I could sell if I wanted to!)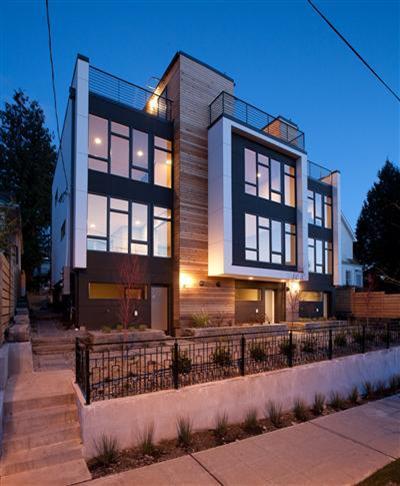 This one is $595k for 1,730 square feet. Find out more at Urban View Homes.
80 S Jackson Loft
I have a soft spot for 1,000+ square foot 0/1 bedroom lofts… So check out 80 S Jackson unit #205. 1,100 square feet for $379k. Last sold in March '05 for $320k:
Contemporary Queen Anne Townhome
If you're looking for something less gritty there is this $1.115m townhome in Queen Anne at 423 Ward St. 2,100 square feet… Last sold in late '05 for $910k.
Pricey Upper Floor at Cristala
This one caught my eye because I couldn't believe someone would ask $625k for a 773 square foot unit. But it is at Cristalla. Last sold in fall '06 for $689k and originally bought in '05 for $535k.