Open Houses This Weekend
Don't even think about staying home and playing with the new iPad app, WSJ House of the Day, that you just downloaded for free from iTunes. I checked. The only Washington state homes you'll find are in Mercer Island. Instead, get up-close-and-personal with Seattle properties by visiting one or two of the 119 condos and townhouses with open houses this weekend.
217 12th Ave E Unit B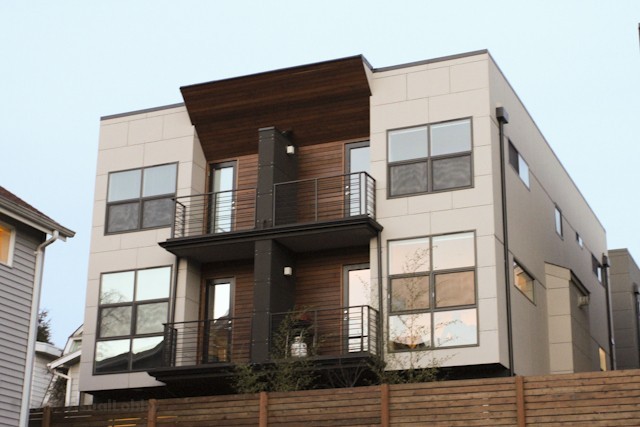 Saturday and Sunday, 1-4PM
One of the modern design, NoJo Rowhomes, appeared on the listings last week and is hosting an open house this weekend. If I believe the listing description (and I do because the net isn't telling me otherwise) then this complex of Capitol Hill townhouses sold super fast when it was built in 2009. Go see for yourself if the polished concrete floors of this 3br/1.5b townhouse incites the same excitement in you as it did in others 2 years ago.
1388 Alki Ave SW #402


Sunday, 1-4PM
This is about as close to on-the-beach living as you get in Seattle. Correction, West Seattle. And, while it's not next door to the Alki Cafe and everyone's favorite gingerbread grill cakes, just remember that a round trip of 6000 steps sounds like a lot until you convert it to calories burned (approx. 300) and realize that is about what 1 pancake costs you. Or,  you can just sit and enjoy the view – costing zero calories – from this 2 bedroom, 2 bath condo at Alki Beach Towers that is listed for just under $600K.
7019 47th Ave SW #19


Sunday 11AM-1PM
The only reason I know about Lincoln Park in West Seattle is because of the Colman Pool. And it's because of that huge, outdoor pool of salt water that I occasionally click on listings in that area. For example, this top floor, 2000 sq ft condo with views of the sound. I can imagine spending leisurely afternoons lounging on the 335 sq ft deck of this tucked-away condo – after a morning swim at Colman Pool, of course.