Open Houses This Weekend
Seattle has 124 condos and townhouses to show you this weekend in open houses. Following are a few that you may want to check out for yourself.
81 Vine St #300


Saturday, 11AM – 1PM
81 Vine is one of those Belltown addresses that is tattooed on my brain and categorized under 'lust-worthy lofts'. #300 fits that bill. With 1,847 square feet and 13′ beamed ceilings, this unit is currently listed at $600K. It was last sold for $740K in 2007 and is recently returned to the MLS after having spent much of 2009 and 2010 there.
303 E Pike St #306


Sunday, 2-4PM
Just yesterday I was sitting across the street from Pike Lofts at Victrola and wondering if there were any units for sale in this building. Enter unit #306 (1bd/1b, 781 sq ft). This unit was last purchased in 2001 for $255K, and is now being offered at $335K.
409 16th Ave E #21


Sunday, 1-4PM
Hold up. Is that a real door or just a painting of a door? Probably a bit of both in this uniquely, Trompe-l'oeil painted condo at The Gables. Located on the 3rd floor of the 1911 Capitol Hill building, this 1 bedroom, 1 bath unit is listed at just under $225K.
506 Lakeside Ave S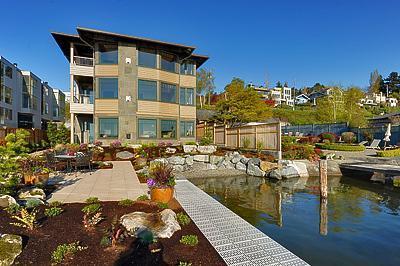 Saturday, 1-4PM
Three units (#E3, #W1, #W2) in this condo building have spent nearly two years on the MLS. Unfortunately, that's not a dubious distinction in today's market but that's a long time for someone to not be enjoying the million dollar views in these waterside units located in Leschi. First listed in 2009, you will find each has dropped in price by $250K, $300K, and $400K respectively.