Seaboard Building Studio for $340K
Speaking of renovation and preservation, a studio in the Seaboard building was listed this week for $340K. Located at 1500 4th Ave #700, this 861 square foot condo is one of 24 luxury condos in the 10-story renovated building.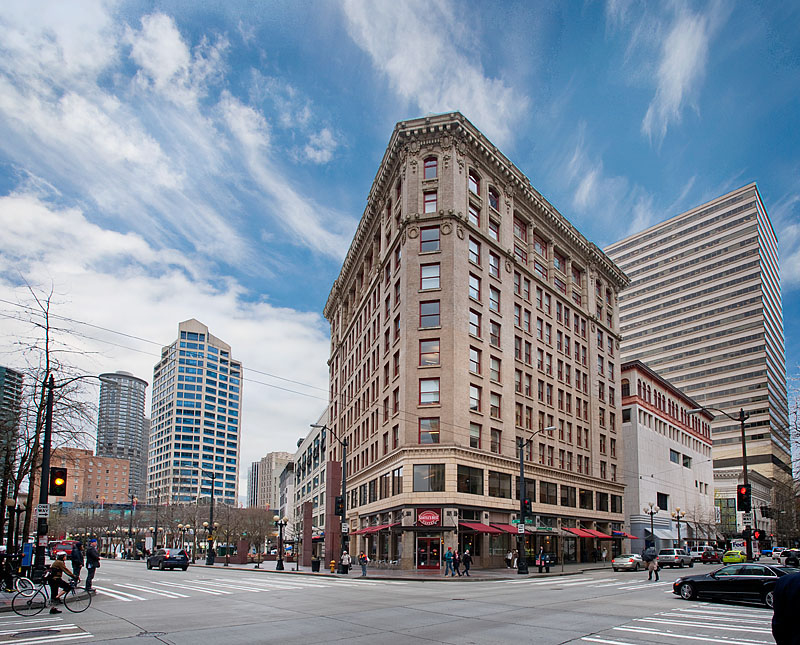 The chef's kitchen includes high end appliances such as Miele, Sub Zero, and Viking.

But what a studio-dweller might really appreciate is the built-in storage and the clean lines of the living area.

And that's one of the more enjoyable rooftop views of a neighboring building than I've seen in a while.

The renovations of the Seaboard Building were completed in 2001 by Pine Street Development, part of a multi-building project that monopolized downtown in the late 90's and resulted in Pacific Place and Nordstrom's new location. The description on Pine Street Group's website says:
Key to the feasibility of renovating this City of Seattle landmark was changing the City's Land Use Code to enable the in-filling of a U-shaped light well and the addition of penthouse condominiums. This enabled a significant structural upgrade of the property and created an additional nearly 20,000 square feet of office and condominium space for lease and sale.
Even the Daily Journal of Commerce touches on the challenges of the renovation:
When completed in early 2001, the triangular Seaboard Building will have residential on the top four floors, office on stories two through six, and retail on the first level. That sounds straight forward enough, but it's not. Griffin jokes that the endeavor has created "more brain damage per square foot than any project I've ever worked on."

The landmark status of the 90-year-old, 100,000-square-foot building is one challenge. Converting it to a mixture of uses is another. There are code issues, the wooden window frames must be rebuilt and decks are being added to the north side of the building. "On the list goes," Griffin said.
Reminder: Pine Street Group's current project is the 654-unit, 2-tower building that is in its early stages at 6th and Lenora.