Nicholas Court Condos at 15th and Union
Thanks to Marce for the heads up on, 1413 15th Ave #1. It's a $700k, 1,262 sq. ft. townhouse at 15th and union: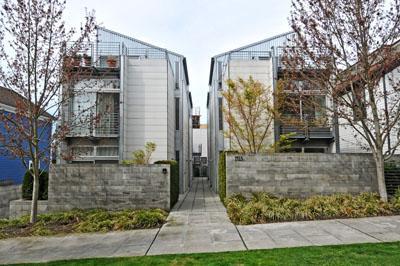 Marce had this to say:
Here's an article on the architect, Seeing The Light | Architects at home. I think this would be a rare example of someone closing in this time period who could sell now without a loss. These are rarely on the market long. The three single bedroom units that have sold in the last four years had an avg. DOM of 6.6. And the photos don't do these units justice. They are one of the very rare examples of nicely done townhomes. Good layout + light (+ light industrial look & feel) = Yay for good design in Seattle!
The seller certainly enjoys DWR :).