Even More Eye Catching New Listings
Bunch of new listings caught my eye today.
First up are five townhomes on Capitol Hill at 215 24th Ave E (near 24th and Madison) designed by Pb. Pricing is:
Unit A, $419,950 Sold Pending, Unit B, $369,950 2 br 2 bth, Unit C, $369,950 2 br 2 bth, Unit D, $367,000 2 Br 2 Bth, Unit E $405,000 3 Br 2 Bth
A peak at the interiors:
Next up is a loft style condo at 1605 E Pike. $699 for 1,363 square feet.
Then we have a penthouse unit at Queen Anne High, 201 Galer St Ph 528. $769k for 2 beds. They originally paid $633k in October '06 and then tried for years to sell it starting at $950k.
I like this unit at Avenue One. Next bookshelves in the den if you have a ton of books. $460 for 893 square feet.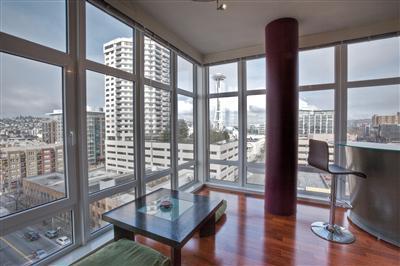 If you're game for chasing a short sale here are two new ones.
A Queen Anne High one with a "bonus room". Wish they would have included a floor plan.
And there's a short sale at the Crawford, #302: